Asking Patients for Reviews: Guide for Dental Practices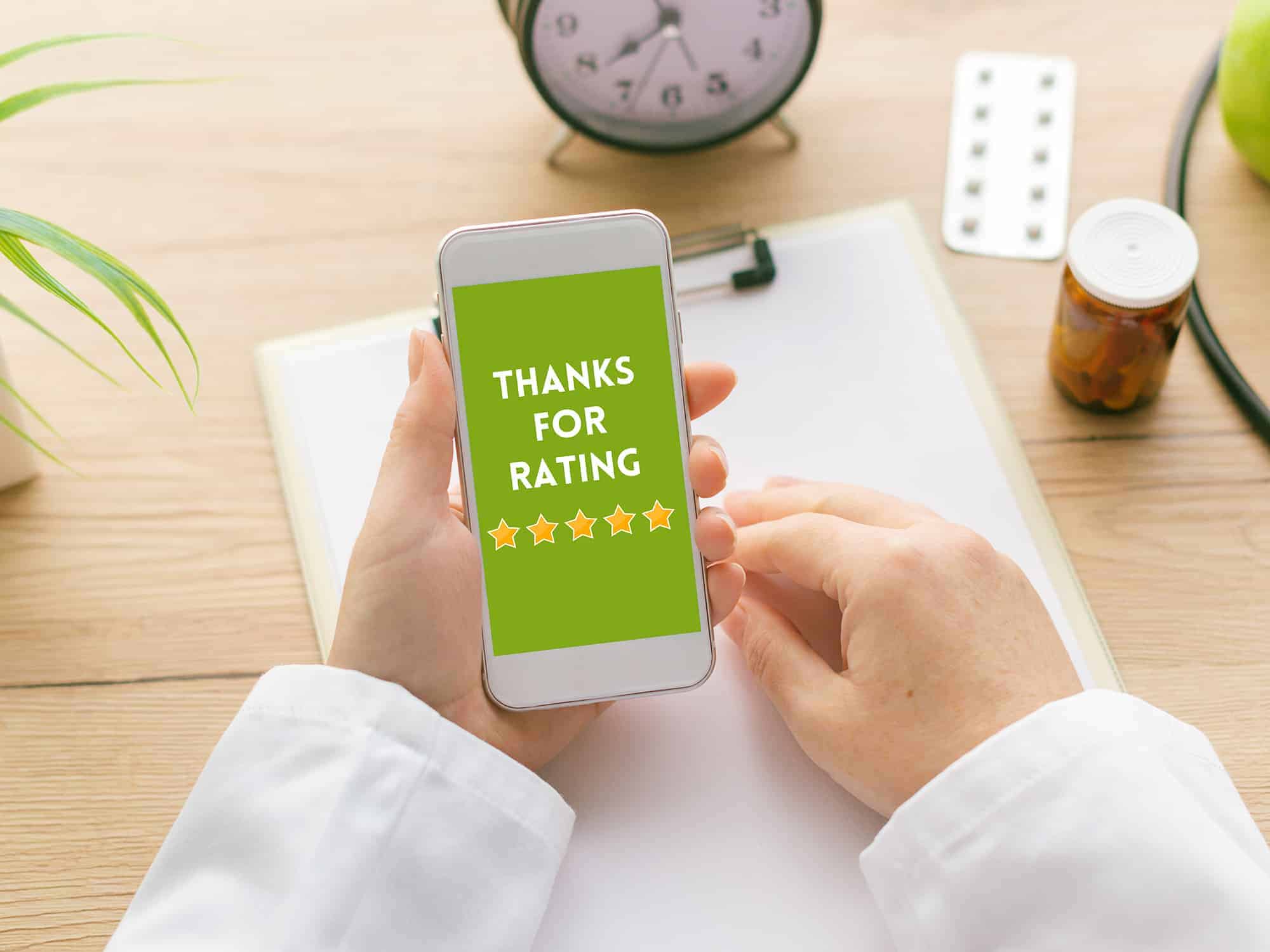 There is no doubt that word of mouth advertising is the best kind of marketing you can have for your dental practice. A patient referral is obviously the best outcome you can get from a satisfied patient, but a positive review for a dental office is also valuable, since it has the potential of reaching a large audience. Most dentists find it challenging when it comes to asking patients for reviews, but it isn't really as daunting as it may seem.
Asking Patients for Reviews: Best Practices
The typical dental office doesn't really have any sort of strategy or process when it comes to generating patient reviews. But if you just follow some of the best practices outlined below, gathering dental reviews by patients will get easier, and you'll get more of them!
Set up a Google Business Profile
Google reviews for dentists are important, and to get them, the first thing you should do is set up a Google Business Profile. If you don't already have one for your dental practice, here's a step-by-step guide to setting up a Google Business Profile:
Sign in to Google My Business
Visit the Google My Business website and sign in using your existing Google account, or create a new one.
Add your business information
Click on the "Add location" button and enter your practice name. If your business already exists on Google Maps, claim it. Otherwise, provide the necessary details like address, phone number, website, and category.
Verify your business
Google will send a verification code to the address you provided. This can be done via mail, phone, or email. Follow the instructions to verify your business and complete the setup process.
Optimize your profile
Once verified, optimize your profile with additional information such as business hours, photos, a description, and services you offer. This will help potential patients learn more about your business.
Remember to regularly update and engage with your profile, especially the dental reviews by patients you receive.
Ask About Their Experience at Check Out
The best time to get honest feedback from your patients is immediately following their appointment, before they exit the office. This interaction can provide good feedback comments for dentists. Plus, every positive response represents an ideal opportunity for you to ask for an online review. Dental offices should also ask patients about their visit during check-out for several other important reasons:
Patient satisfaction: Asking patients about their visit shows that you value their feedback and satisfaction. It provides an opportunity for them to express any concerns, share positive experiences, or provide suggestions for improvement. This feedback can help you identify areas where you excel and areas that may need your attention, ultimately enhancing the overall patient experience.
Quality improvement: By asking about their visit, you can gather valuable insights into the patient's perspective, identifying areas where improvements can be made in your practice. This feedback can help you refine your processes, enhance communication, and deliver better care, leading to improved patient outcomes.
Patient retention: Regularly seeking feedback from your patients shows a commitment to their long-term satisfaction and well-being. When your patients feel heard and valued, they are more likely to develop a sense of loyalty towards your dental office. Satisfied patients are more likely to return for future appointments, recommend the dental office to others, and leave positive reviews!
Reputation management: Positive reviews and testimonials can attract new patients, but negative feedback can turn potential patients away. By proactively asking patients about their visit, you can address any concerns or issues promptly, potentially preventing negative reviews and maintaining a positive online reputation.
Send a Follow-Up Text
Even the patients who intend to post an online review may forget to do so after leaving the office. Sending a reminder text can be a great way to prompt them. You can also include a link to your Google profile to simplify the process for them so they'll be more likely to follow through on their intention and write a great review.
Create an Incentive
One solution for how to get patients to write reviews is to offer an incentive. Keep in mind, it is essential to comply with laws and regulations regarding offering incentives for favorable patient reviews. You should always follow ethical practices and ensure that any incentives offered are within the boundaries of professional guidelines. Consider offering a small non-monetary token of appreciation as a gesture of gratitude for patients who take the time to leave a review. This can be an entry for a prize drawing, or a dental care product.
Respond to Online Reviewers
When you do receive a review online, you should always respond. By responding to all reviews, dentists can actively manage their online reputation and address any negative feedback. This proactive approach can help mitigate the impact of negative reviews and showcase the dentist's dedication to patient satisfaction.
Know How to Ask
If you're wondering how do you politely ask for a review, we have some tips to go about doing it the right way, so you'll get more reviews, and better ones at that. For clever ways to ask for reviews, examples include…
Ask the right people
It goes without saying that you'll get the best reviews from your happiest patients. While you can't do anything to discourage or prevent dissatisfied people from expressing their opinions on public review sites like Yelp or Google, you can actively encourage those who will say positive things about you.
Have your team help compile a list of your best and happiest patients, then keep track of whether or not they have ever provided you with a review or testimonial.
Ask at the best time
The best reviews follow the moments when patients have the best experiences at your office. The very first visit by a new dental patient is often your best opportunity to create a positive impression and make their previous experiences at other offices pale in comparison.
Asking them on the spot for a review (better yet, a video testimonial) is your best chance to get their cooperation. Once they leave the office, your odds of collecting a review will decrease greatly, but at least make sure they walk out the door with easy instructions for leaving a review on your website or Facebook page.
Ask them more than once
Even if your first opportunity slips by, it doesn't hurt to ask again (and again) for reviews from your patients. Email and text messages are great ways to follow up without being too pushy. If you're sending personal emails, include a reminder of why their most recent appointment was such a great experience. If you're seeking reviews on a larger scale and sending automated emails, your messaging will need to be less specific, but should still remind them how much you would appreciate their opinion. Either way, include links to the web page, social media, or review site where you'd most like them to post their review.
Ask great questions
When you do get your chance to collect that perfect review, use open ended questions to help guide your patient to give a response that is more detailed than just "Dr. Jones is the best." Suggest that they describe their experience at your office, what impressed them, why they chose your office, or why they would recommend your office to their friends.
Ask how you can be better
The biggest key to getting great reviews is being the best you can be and consistently exceeding the expectations of your patients. Positive reviews can reinforce things you already knew you were doing well, but bad reviews can be red flags for things you'll need to fix. If you do receive negative feedback, reach out to the patient and have a conversation about what went wrong. It can be even more valuable than positive feedback.
Where Should You Ask Patients to Review You?
In addition to Google reviews for dentists, there are several other online locations where you can ask your patients to express their opinions about you.
Facebook
Most dental offices have a Facebook page, and it's one of the first places potential new patients will check out when looking for a dentist.
Yelp
Yelp is a widely recognized review platform that allows users to search for and review local businesses, including dentists. It provides detailed reviews, ratings, and photos to help patients make informed decisions.
Healthgrades
Healthgrades is a trusted online resource for finding medical and dental care providers. It offers comprehensive profiles with patient reviews, ratings, and other relevant information to help users find the right dentist for their needs.
RateMDs
RateMDs is a platform that focuses on healthcare provider reviews. Users can find and leave reviews based on their experiences, helping others make informed decisions about their dental care.
Zocdoc
Zocdoc is an online platform that allows users to search for and book appointments with doctors and dentists. It also provides patient reviews and ratings to help users choose the right dentist for their needs.
Grow Your Practice with Golden Proportions Marketing
Positive patient reviews and dentist online reputation management are important parts of your dental marketing strategies – and we can help! Contact us today to set up your Marketing Breakthrough Call!