Dental Service Organizations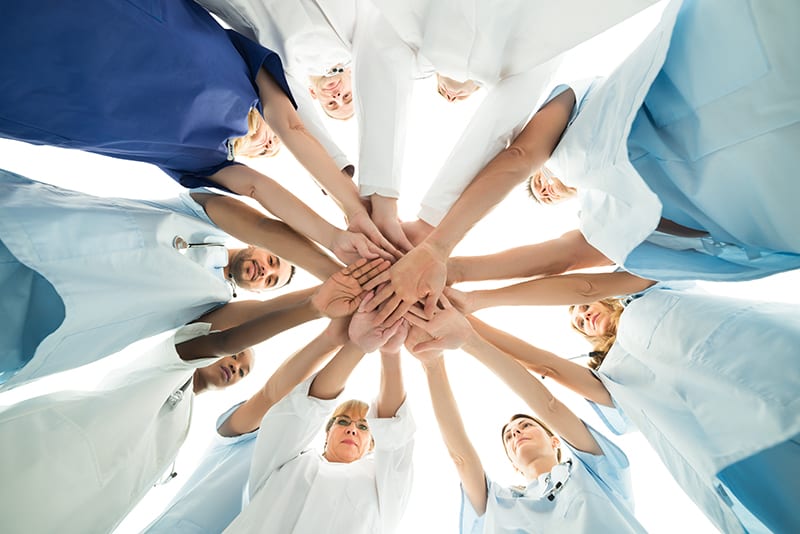 DSO + DNA =
return on investment
The marketing needs of Dental Service Organizations are very different from the average solo dental practices. Successfully growing and adding office locations requires individually personalized DSO marketing solutions that can somehow be scaled efficiently and deployed quickly to produce consistent results within a broader strategic vision.
Fortunately, that's exactly what our DNA Dental Marketing Process provides.
The Process:
DNA Dental Marketing
Face it, dental patients don't want to deal with companies or organizations. They want to deal with dentists. Real people they can like and trust. A generic plug-and-play corporate marketing strategy just won't work. To really connect with new patients and fill each location's schedules, you need a strategy that gets personal.
We've spent decades developing a different way of marketing. Our innovative approach follows a repeatable, streamlined process that yields a unique strategic plan for each and every one of our clients. By focusing on the Direction, Needs, and Attributes of each office, our DNA process can authentically promote individual locations to dental patients in a way that adds up to measurable success for your DSO as a whole.
Flexible, Results-Driven Services

To say we do it all feels like a bit of an understatement.

Whether your DSO needs a single marketing solution or a fully managed marketing strategy with its own virtual CMO, we have you covered. We boast a nationwide team of dental marketing experts unsurpassed in experience, knowledge, and creativity. The services we provide cover every marketing funnel challenge from top to bottom, across all types dental specialties.
Scalable, customized strategic planning
High-performing lead generation campaigns
Attention-grabbing websites (built for patients AND search engines)
Transparent reporting with call tracking and analytics
We can even help build your corporate DSO brand and online presence, putting you in a stronger position for recruiting new practices and growing your organization.
(See, we told you we do it all!)
The Proof:
Smart Market Dental
Question… how can you sleep peacefully at night knowing that you've made the right DSO marketing decisions and will be able to fully justify your results to executive management?
Answer… reliable data.
Having full, transparent access to ALL of your marketing analytics is nothing short of empowering. With Smart Market Dental, our proprietary marketing dashboard that connects seamlessly with your current patient management system, you'll have every measurement you can think of at your fingertips. If you're tired of dealing with smoke and mirrors "reporting" that you get from some marketing agencies, Smart Market Dental will enable you to see things more clearly than ever before.
Practice Analytics
Call Tracking & Scoring
Digital Marketing Reports
Automated ROI Analysis
Goal Tracking
Marketing Insights
Ready for the DSO marketing you deserve? Contact us today!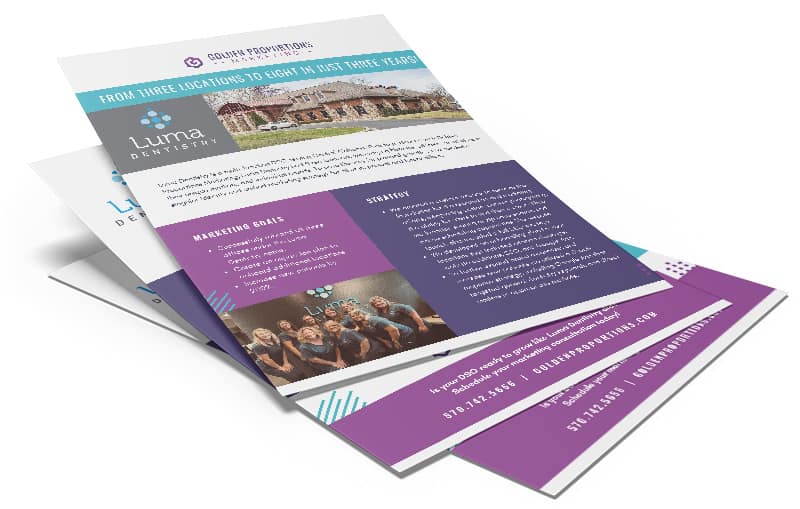 Luma Dentistry is a multi-location DSO serving Central Alabama. Check out the results for yourself and read how they were able to pivot and do a 180 with GPM as their marketing partner.

This is truly a great team to work with. Alison, Brett, and Jake have really helped us develop our brand identity in northern Virginia over the past few years. Interestingly, we've seen a spike in new and emergency patients this week- all booked via our website….I think people visiting the site love it too. Thanks for all that you guys do!


Ask, and you shall receive from each staff member at GPM….This marketing group works together, demonstrating genuine teamwork and exhibits going "above and beyond." Thank you GPM.


Working with the team at Golden Proportions is a pleasure. We really appreciate their attention to detail and follow through on all of our marketing needs.