Dental Marketing Plans Made Easy: 4 Steps You Need to Know
To restore a patient to health, first, you have to get them into your chair. And to get them into your office, you need dental marketing strategies. We see a comprehensive plan much like a new patient exam in your practice. New patients are counting on you to diagnose any problems, take away the pain, and restore them to health. They expect a treatment plan that will get them healthy and smiling. You should approach your marketing in the same way.
Identify your dental marketing goals
If I don't know that I want to end up in San Diego, how do I know if I'm going the right way? Your marketing plan relies on the same sentiment. When you begin your plan, you need to know what you are aiming for. What do you wish to accomplish from this plan?
Are you: Looking for new patients? In need of retaining the patients you have now? Seeking a specific type of new dental patient?
Whatever the case may be, you can not move forward until you clearly define your end goal. Goals are the foundation. They determine everything that follows, including your target audience and where to reach them.
Once you understand where your efforts should go, it's vital to analyze what already exists. Figure out where your practice currently stands in its dental marketing efforts. Take a quick temperature check. What is the marketing health of your dental practice? Establish this by:
Looking at your current patient demographics

Investigating zip codes patients are coming from

Calculating how many patients you're currently averaging

Exploring current patient retention rates

Inspecting your cancellation and no show rates and causes

Evaluating how many new patients you're acquiring each month/year
These numbers, also known as Key Performance Indicators (KPI's) are necessary for you to measure your future progress. It's vital to measure your KPI's weekly, monthly, quarterly, and annually to pinpoint where – and how – to make changes that will impact your growth.
Over time, the KPI's will tell you exactly where you should be focusing more of your attention. Is there a particular month where new patients are consistently low, year after year? Now you know to ramp up your marketing efforts far in advance so that specific KPI is more consistent.
Do your active patient numbers stay the same each month? That means you're losing as many existing patients as you're gaining new ones. It might be time for a renewed retention strategy. If you want to grow your numbers, you first have to know your numbers.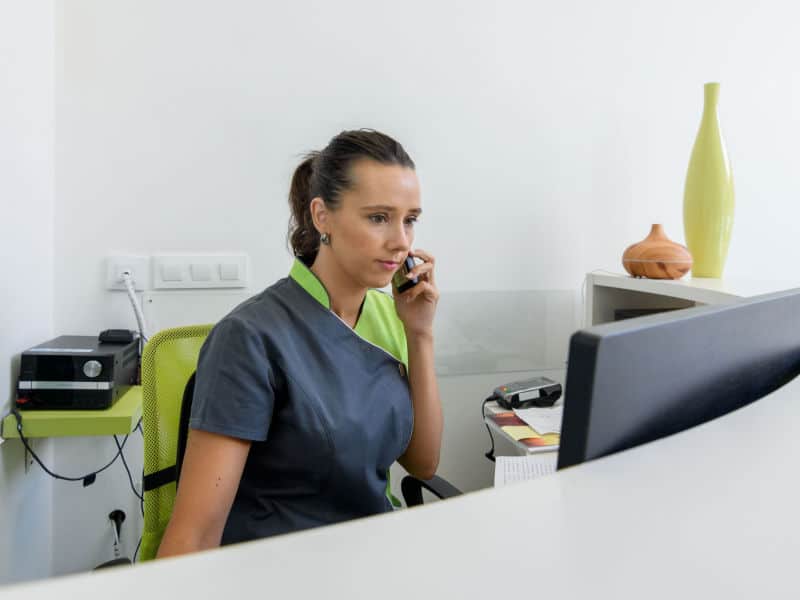 Diagnose your existing marketing
You can't have success without tracking. It's always a good idea to track your efforts to understand what is working for you and what is not. You can do so by:
Looking into your website analytics
Tracking your current phone call conversion rates
You want these numbers to be as accurate as possible so you have a true understanding of the impact of your marketing efforts. We suggest you contemplate utilizing a marketing or measuring tool to track these numbers for you. Google Analytics allows you to track how users find and use your website. It lets you trace ROI for your online dental marketing and uses tracking codes to tag and follow any advertising, social or PR campaign on any platform.
For call tracking, consider using programs like Smart Market Dental and Patient Prism. There are many different software platforms for dentists that provide a weekly/monthly report that allows you to see these numbers in one easy to view place.
Dental Intel

Square Practice

RevenueWell

Blue IQ

Divergent Dental
Platforms like these will ultimately make the process much easier and more efficient for you, overall.
Combine all information you've gathered
Lastly, you want to take everything you've done thus far and put it into a comprehensive plan that includes multiple dental marketing strategies. Include current marketing initiatives that are performing well and incorporate new strategies to fill in the gaps. Each component of your marketing strategy should directly tie back to one of your business & marketing goals. Don't add "new dental website design" to your list if the focus needs to be on improving your reviews. Although you may not be able to execute every strategy at once, it is okay to phase them in as you go. Each strategy can contribute to the prosperity of your practice in its own way.
In this digital age, your dental marketing plan is crucial to your overall business plan. Without a comprehensive plan, you're basically taking a shot in the dark and hoping for the best. A carefully thought out marketing plan supports your practice vision, mission, and goals, and is essential to your future success.
Want help developing your dental marketing strategies?