How Dentists Can Use Google Ads to Dominate Google Maps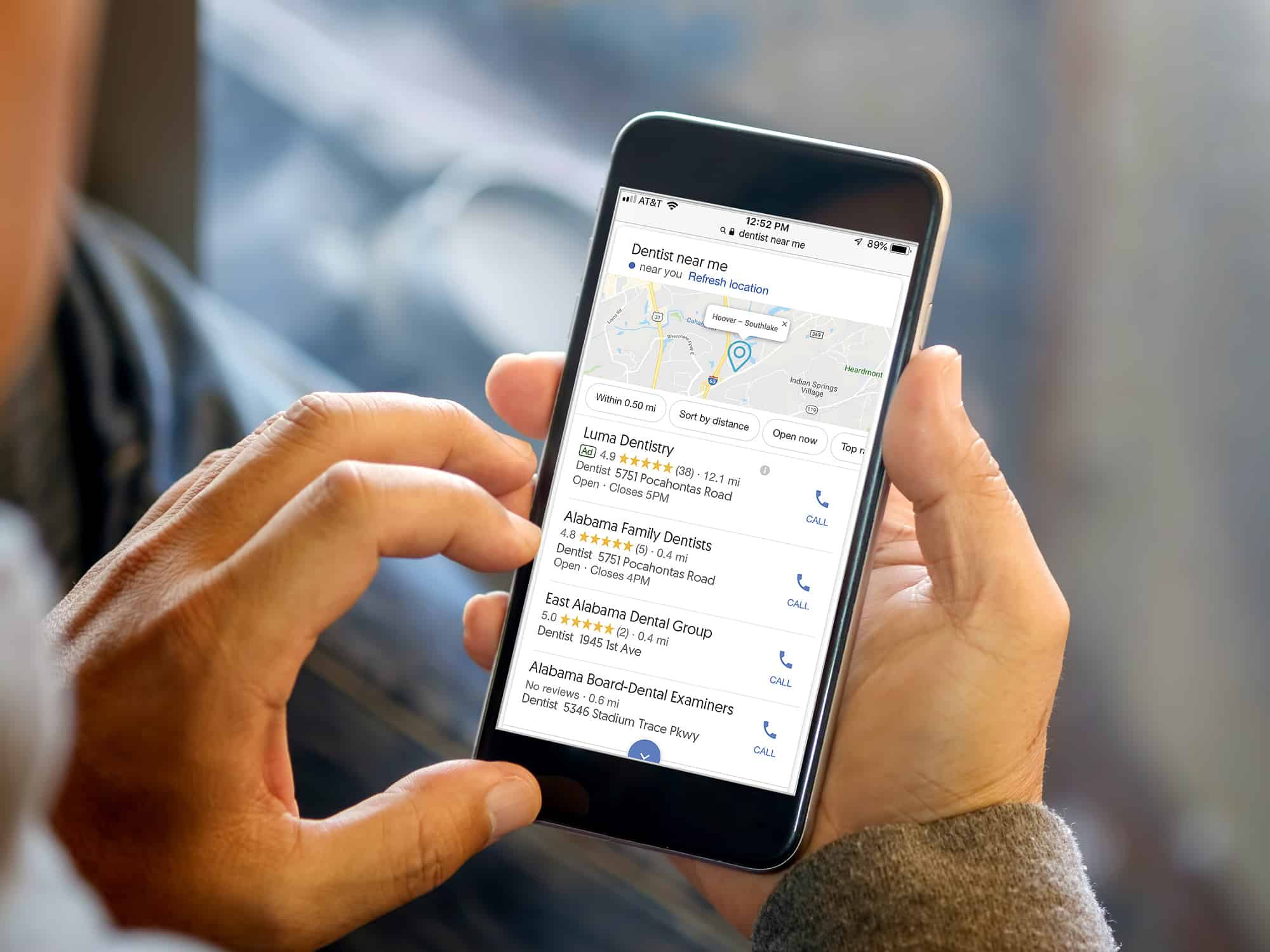 If you're a dentist who wants more patients (and who doesn't?) you know you have to get your dental website to rank high on Google Maps. After all, the top 3 Google Maps listings get 44% of the clicks, the largest portion of all page one results.
If there are a dozen or more offices that show up when you search "dentist near me" it can leave you wondering, "How did THAT guy make it to the top? He's not that good." Trust me, we hear it all the time, but it's not like Google sends a rep to watch your crown prep technique. They have to rely on digital signals that tell them who belongs in the top spot. 
Why Is Google Maps So Important For Dentists?
Google Maps is where it's at, all because in our global world, we still prefer to buy services from someone local.
Over 30% of mobile searches are related to the business's location.
Location-related searches (like "Dentist Near Me") have grown 50 percent faster than mobile searches.
84 percent of consumers conduct local searches.
If you're a patient looking for a new dentist, you don't want to spend hours digging through websites. You want to know who everyone else thinks is the "go to dentist," and frankly, you trust Google and all those reviews.
Using Google Ads to Jump the Line on Google Maps
You may have heard that all it takes to make it to #1 on Google Maps are a lot of five-star reviews. While that's a factor, there are actually hundreds of things Google evaluates to determine who makes it to the top, some of which you can't even control – such as the physical location of the searcher when they started looking for a "dentist near me." If your website is brand new, or not well optimized, it can also hurt your ability to rank on Maps.
While all of the organic search factors are vitally important (so important that we're also going to tell you how to organically optimize that listing), there's also an easier way to get to #1 on Google Maps, and that's Local Search Ads. Just like dental ppc, this is a paid option for Maps. With a Local Search Campaign, your Maps listing jumps to the top, along with your business information and your reviews. You pay each time a user clicks on a part of your listing, including your phone number or just the address. The only noticeable difference is the small purple or orange "Ad" symbol next to your listing.
Remember, if you use Local Search Ads to get to the top, everything in your Maps listing goes with it. So if you only have a few reviews, it doesn't make sense to pay to be #1 when the offices below you have dozens or even hundreds of reviews. That's why you'll want to make sure you're organically optimized as well.
Optimizing your Dental Google Maps Listing
Dental SEO used to be pretty straightforward back in the early 2000s. Nobody even thought of online reviews, and Google Maps was just a twinkle in Larry Page's eye. But once Google Maps premiered in 2005, everything the world knew about ranking on Google changed (in a good way!)
We know that nothing makes you happier than showing up at the top of Google Maps, whether paid or organically, so we're going to give you step by step directions on how to do it.
In order to properly optimize your Google Maps listing, start by searching for your practice name as well as the name of all practicing dentists in the office. Not listed? No worries! Fixing the problem is easy. When you search for your nonexistent business on Google Maps, it will give you a prompt to "Add a missing place on Google Maps." Click it to get started.
Once you find your dental office on Google Maps, check to see if it has been claimed. If it has not been claimed, you'll see this shield symbol, and then you'll have the option to claim the listing.

Click "claim this business" and follow the prompts to set up your Google My Business account. This free tool is your go-to spot for everything related to how you manage your online presence across all Google platforms, i.e., Maps and Search. This is why it's critical that your business information is verified and optimized.

You'll have the option to claim your listing via a phone call, or Google may want to send you a postcard. Either way, you'll end up with a pin number to enter into that listing. Don't wait for more than a day or two to enter the pin because they expire quickly!
Pro Tip: Write down the login and password to your Google My Business account somewhere safe. You need this login to respond to reviews and to update your business information.
Once you claim your listing, you or your dental SEO or dental PPC management company can easily fix inaccuracies with your phone number, hours, photos, address, etc. Even if your listing is no longer relevant (maybe you moved, or it's a listing for an associate who no longer works with you), it's still essential that you claim it. Google wants a clean, complete listing to help a searcher find the best business to solve their problem.  
Key Tips for Optimizing Your Google Maps Listing
Make sure all of the details Google wants to see in your business listing is up-to-date and without error. The more information you're willing and able to provide about your practice, the better your relationship with Google will be. Google wants to tell patients all about you and your business. The more comfortable consumers become with your company and services, the more Google's going to trust you too, and position you higher in search results.
Want to try filling out your information on your own? Check out these tips. (If this is all confusing and you'd like some dental marketing help, we can take care of that too.)
Step 1: Fill out as much of your Google My Business profile information as possible. Start simple with your phone number, website, hours, and business description.
Step 2: Choosing the right business categories is crucial to having a successful listing. The category field is without a doubt the most important element to both your Google My Business and Google Maps listings. Obviously, "dentist" would be your first category choice, but then you can also add additional, relevant categories to boost your listing. Choose the auto-fill options if at all possible. Not every service qualifies for Maps. For example, try searching "Veneers near me." Not a dental office in sight on Maps even though it's a dental service you might offer.
Step 3: Google is visual just like the rest of us. If you have high-quality photos of your dental office or small business, add them to your listing. It's going to make you more appealing for Google, for patients, and for your dental SEO.
Step 4: Make sure your map listing is visible and connected to your website, landing pages, and includes high-quality reviews. When Google sees that people are getting the services and care you say you're providing, they take notice. A business with no reviews can't compete with a business that has quality, five-star reviews.
Your Dental Website Can Impact Your Google Maps Rank
Improving your rank on Google Maps doesn't end at a well optimized Google My Business listing and a lot of reviews. Google still takes the optimization of your dental website into account, looks at your social media presence, and even cares how you appear on other online directories. Like everything in the universe, it's totally interconnected.
Using Local Search Ads as a dental digital marketing strategy is just one of many online dental marketing options. You can try retargeting, social media ads, YouTube ads and so much more. Learn more by downloading our FREE guide to everything you need to know about 2019's Top Dental Internet Marketing Trends.