Online Reviews
Services
Every dentist we talk to says the same thing. "I ask all my patients but I'm lucky to get one new review a month on Google or Yelp." We agree, it's a challenge. We LOVE a good challenge, so we came up with a solution. Rave Reviews.
With Rave Reviews, getting a patient to leave a 5-star review on Google is unbelievably simple. Enter your patient's first name and their cell phone number, and within seconds there's a text on their phone linking them to our review platform. 
Worried about negative reviews? Rave Reviews circumvents unhappy patients with a feedback loop that goes to the front desk, and not to Yelp.
Here's why you'll love Rave Reviews:
Patients can leave reviews on Google, Yelp, Facebook and more right from their smartphone

Funnel all reviews to the site of your choosing to quickly saturate the page with 5-star accolades

Simple instructions make it easy to walk non-tech savvy patients through any review site

Send feedback from unhappy patients to your front desk instead of to a public review site

Automatically trigger emails to patients who need a gentle reminder to write a review

Maximize your exposure by embedding a review feed on your website

Use the reviews to boost your social media presence

$99/month and no long term contracts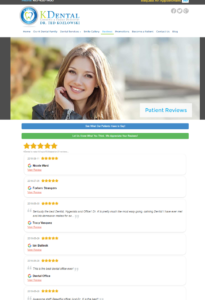 Want to learn how to show the review feed on your website?
Contact us today for a short demo to learn how Rave Reviews can turn your practice into the most talked about office in town.
"Prior to starting Rave Reviews, we had a total of 56 reviews company wide, spread over the months of January-October, 2016. We have been able to double this amount in just 7 weeks. It is clear that this has been a worthy investment thus far." – Grand Dental Group, Chicago
"I have worked with GPM for several years. We have used their Rave Reviews for the last year and it has dramatically increased our new patients. It is an easy system to use that produces incredible results." — Scott Andler, Madison