Dental Marketing Budgets: How much should you spend?
*This blog was updated on November 3, 2021.
In working with practices across the country, we often get asked by dentists this question: "How much do I need for an effective budget for my dental marketing strategies?" While we do have some standard guidelines based on a percentage of production, it is also influenced by location, competition, and what is necessary to achieve the goals you are setting forth.
So before you give up reading this blog because of the clear bias that a dental marketing consultant thinks you ought to be spending a healthy budget on your marketing, here are what some of the experts in the financial realm of the dental world are saying:
Hinrichs & Pesavento 
When it comes to a mature practice, Dental CPA firm Hinrichs & Pesavento believe your marketing investment should be between 2 and 7% of your annual collections. If you are a young practice or you are in a growth phase, however, these financial consultants recommend a higher range, somewhere between 5 and 10%. For start-ups, they recommend a budget of $50,000. Why so much? "The faster you can get to full speed, the higher your lifetime profitability for the practice will be."
"The faster you can get to full speed, the higher your lifetime profitability for the practice will be." – Hinrichs & Pesavento
Reese Harper, CPA – Dentist Advisors
Reese is the cohost of the Dentist Money show. In presentation material at the 2018 Dental Digital Marketing Conference, he has estimated that a typical dental practice spends between 2-5% of their annual collections on marketing. In his podcast "Why Your Practice is Like a Pencil" Reese says, "In my opinion, a lot of people don't spend enough on marketing." Highlighting that when deciding what to invest in, you should prioritize the things that increase collections.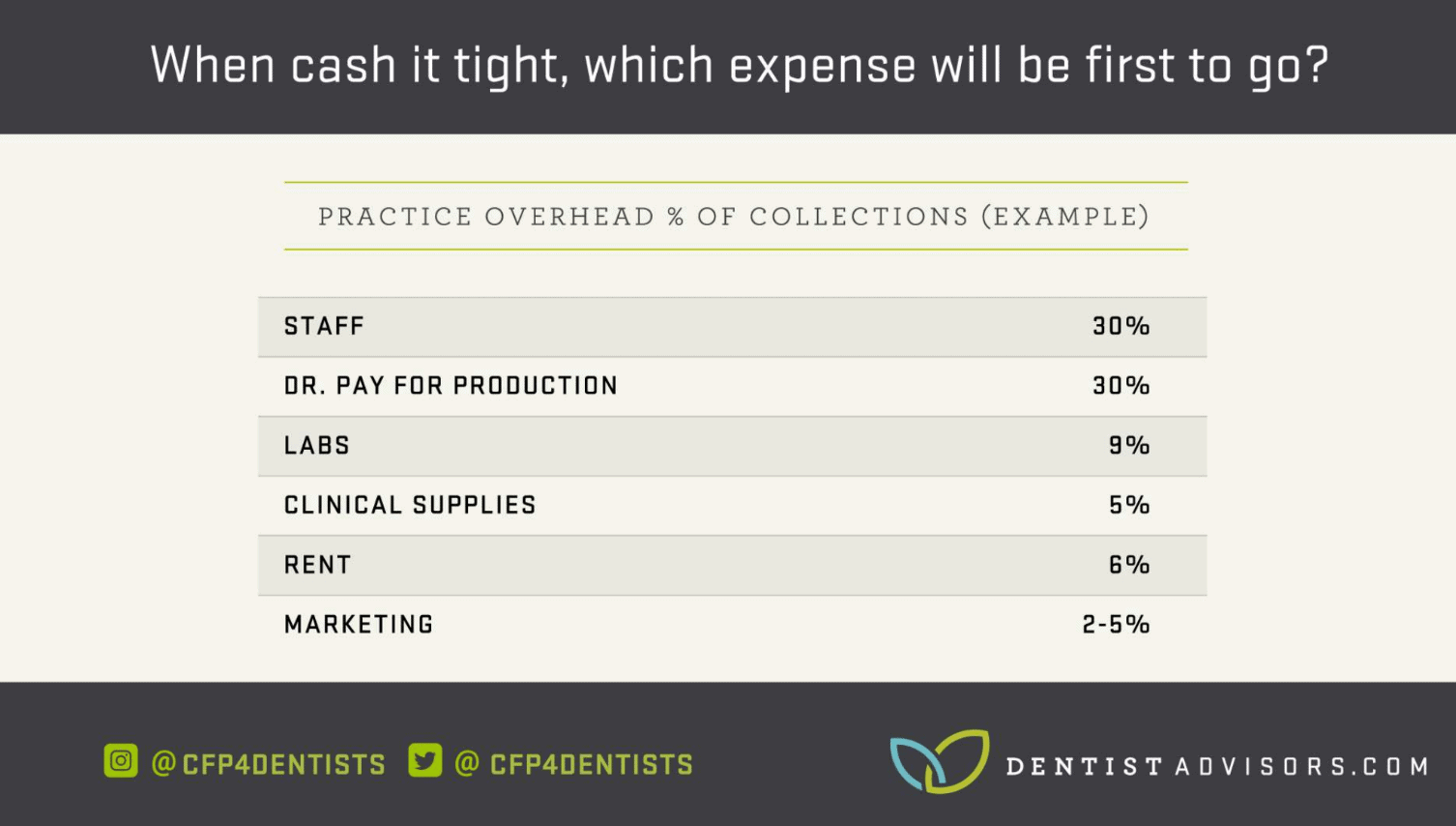 "Prioritize the things that increase collections." – Reese Harper, CPA
Nathan Williams – Practice Financial Group
Offering a different perspective, Nathan Williams the founder of Practice Financial Group believes that "a blind, flat, universal percentage of collections doesn't work and isn't practical."  Instead, Williams argues that the marketing dollars spent should be whatever is necessary to keep the doctor as busy as he/she wants to be. He offers this advice to dentists: "The first and most important marketing any doctor will ever do, with the highest return on investment, guaranteed, is to deliver an exceptional patient experience to each and every patient who walks through their door." Providing that experience may not be "marketing" per se, but you impact it with the team you select, the equipment you invest in, and even the CE you decide to take.
So how much should you be budgeting for your dental marketing? Here are some tips to decide where in the spectrum you fall:
Identify what you want your dental marketing to accomplish.
If you want to go from 5 new patients a month to 40, chances are you're not going to get there on a $500/month budget. If your goals are aggressive, then your budget should match that intention.
This is two-fold. $1000 of dental marketing in Sheboygan, WI is going to go a heck of a lot farther than $1000 of dental marketing in Houston, TX. The bigger the population the more competitors you likely face. A dental practice in Sheboygan could spend 2% annually and experience phenomenal growth, but a practice in Houston may have to spend 5% just to maintain. The more competition there is in your area, the more you should expect to spend.
Track where your new patients are coming from.
The best way to know where to put your dental marketing budget is to see what's working for you already and double down. You do not have to do all the marketing things, but you should make sure you know which of those things are working really well.  Use tracking numbers when you invest in new patient driving strategies. Train the team to ask, and enter the data properly. Trust us, the data is your friend!
Yes, there are practices out there who have gotten up to full speed and benefit from the patient referral engine driving their ongoing growth. There are even practices who <gasp> have yet to implement a website because business is so good. These rare gems are just that, rare. When word-of-mouth alone can't keep you in the black, you must find the dental marketing strategies that will – and have a budget to support them.
Be results-oriented. Be realistic. Be ready for trial-and-error.
There are no one-size fits all dental marketing strategies for your practice's success. While we look to experts and averages to be our guide, your dental practice's plan is uniquely yours. So if you are seeking out a dental marketing agency, know you have options. In fact, we have a quiz for that.
When talking to a prospective dental marketing agency, our advice would be to tell them your goals first, not your budget. They should be able to give you an idea of what it will take to get there. Even if there is some initial sticker-shock associated with the price, any dental marketing strategy that can deliver you a healthy return on investment is worth it! It's just math.
Not sure where to start with your dental marketing budget or just want to chat, schedule a call with Erica. Or take our quiz to see who could be your perfect marketing partner. We swear the results aren't rigged. We know we aren't a fit for everyone, and if we aren't we'd be happy to point you in the direction of someone who is. (We promise.)