PPC search ads for dentists: don't play hide and seek with new patients
At any given moment, there are many people in your area searching online for dentists. That's the good news.
The bad news is that you may not be showing up in their search results. And even if you have put the time and effort into your dental website's search engine optimization (SEO), your competitors might still be ranked higher than you, stealing your potential new patients away.
How are they doing this?
They're using dental ppc search ads as part of their dental practice marketing and you're not.
Dental PPC ads certainly aren't fancy. In fact, they're just plain old text. Their real value lies in their ability to put your dental office at the top of the list. And because most people don't go any farther down the search results than they need to, the top is definitely where you want to be.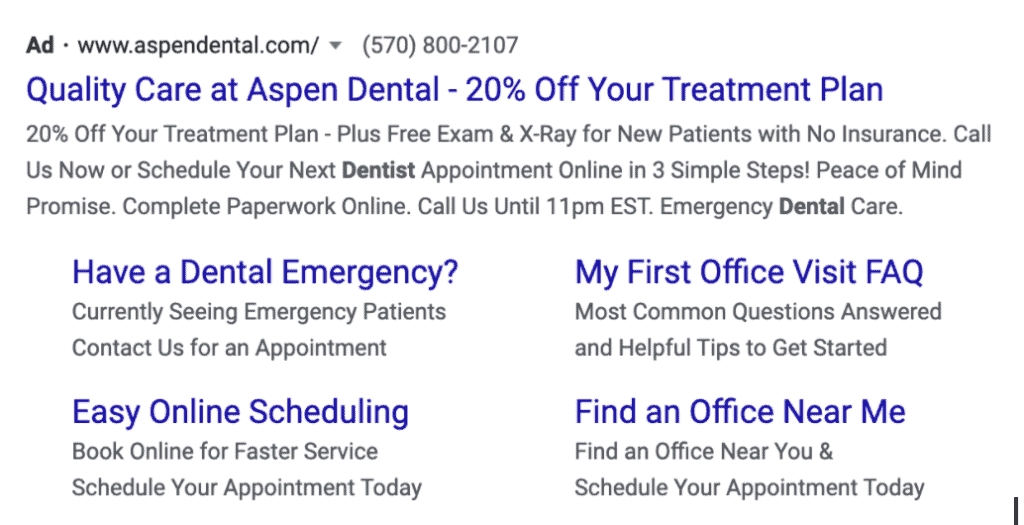 Keys to a successful dental PPC search ad
To have a successful search ad, there are a few key things you need to get right.
Know what potential patients will search for… before they do
Finding the right keywords to target is the biggest challenge for creating successful search ads. You need to match your keyword selection to the intent your audience has for their search so you'll be delivering the right content to them at the right time.
Stand out with the right headline and ad copy
With a limited number of characters permitted for your headline and description, you really need to choose your words carefully. Your headline needs to grab attention and resonate with what your target audience is searching for. Then, your description should provide a compelling reason for clicking through to your dental website or landing page.
Extend yourself
Google allows you to add Extensions to your ad description that can make your search ad more helpful to users (and more helpful to you, since they increase conversion rates). Extensions can provide additional information or links for your patients such as:
Site Link: links to specific pages on your website
Location: clickable address for your business
Call: clickable phone number (for mobile ads)
Structured Snippet: similar to Site Link extensions, but with headlines and descriptions for the page that is linked to
Score big and rank higher
If your competitors' search ads are ranking higher than yours, don't assume it's only a result of how much money you spend. The rank of your search ad is also determined by your Quality Score. That score, calculated by Google, is a measure of how relevant your ad, keywords, and landing page are to your audience. The more relevant your ad is, the higher it can rank for the same dollar amount. To raise your score, optimize your keywords, ad, and landing page in terms of quality and how well they are targeted for the type of patients you are seeking.
Want to learn more about digital advertising for your dental practice?
This article only scratches the surface of dental PPC! Get a more in-depth understanding of what it takes to get the most out of your digital advertising strategy and budget with The Ultimate Guide to Digital Advertising for Dentists.