Top 5 Crucial Elements a Dental Website Must Have
Think of your dental practice website as a potential new patient's first impression.
Will it WOW them?
Technology is constantly changing, which means your dental website should too. Although you may think your 3 year old website is sufficient, something probably already needs to be improved. Aside from that, new, fresh content is key to keeping your site relevant. To ensure that your dental website is as current as possible, we've put together some of the best practices to follow.
1. Quality of image – use custom dental office photography to engage the visitor
Image has always been important for any business. In fact, photos are still important to incorporate into a dental website design, but you need to keep them updated. Are your dental patient photos clear and of high quality?
They should be large, vibrant, and high definition. If your images are small, hard to make out, and contain obvious dated clothing styles, people will assume your dental practice methods are just as outdated. Patients look to your website images as a reflection of your brand, so if your photos are dated consider some new representation for your brand and don't forget to think of all your options.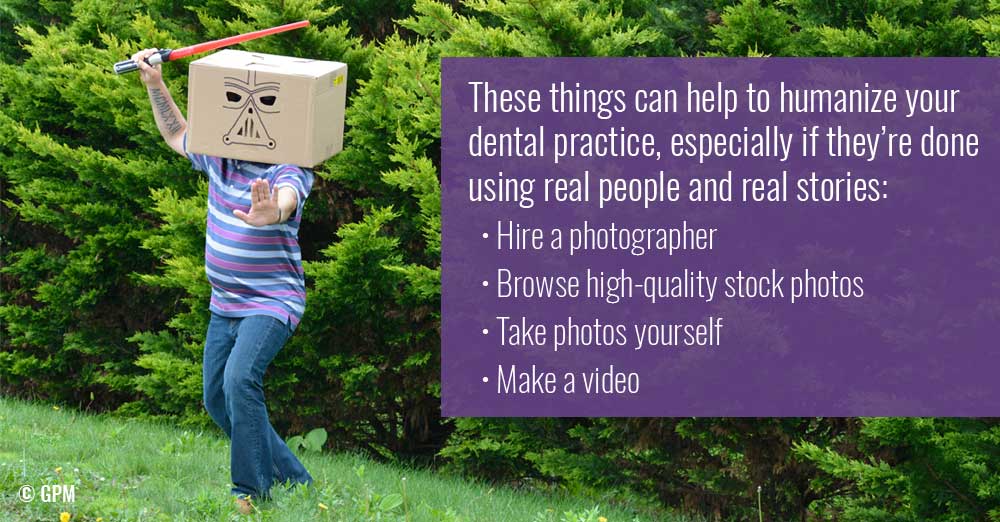 These things can help to humanize your dental practice especially if they're done using real people and real stories. Images also break up the text a bit for your user. Because who wants to read forever to get quick answers? These initiatives will draw their attention while still communicating your key message. The main thing is to draw your viewer in, so they actually want to take the time to read and see what you can offer them.
2. Clear call to action – use clear calls to action on your dental website
If your dental website marketing isn't gathering leads, is it really doing its job? Your website should generate the conversion you desire. In other words, it should tell consumers what to do when they get there. Whether you want them to call for a consultation or download your new patient intake form, it's all in the callout. Although websites were once used as just a way for companies to prove their legitimacy and provide an additional means of contact, websites now have different intentions.
It's important to ensure that every page of your dental website has a call to action. This will make conversion easy for users by telling them exactly what you want them to do on each page during their website visit. Besides, you've spent so much time on the rest of your marketing efforts, they shouldn't be wasted on a lack of conversion opportunities. It's safe to assume almost any new patient calling your office has checked out your practice website. Consumers are savvy and shopping before they even pick up the phone, give them what they want — easy to use information.
Analyze your website's conversion rate now with our free scorecard.
3. Up-to-date information – keep all important information up to date
Things change over time. If you still have people on your team page who no longer work for your dental practice, it's time for an update. If you've added new products and services since your last update, you should add those to your site. Having out of date information can affect patient conversion. You should always make sure the information on your website is current and accurate. Some things that should stay up to date are:
Contact Information
Practice Hours
About Us
Active Links
Content (Images & Written)
Resources
Website Security
Products / Services / Pricing
Reviews / Testimonials
Frequently Asked Questions
While this list is your top priority in terms of what you should constantly update, all pages matter to Google. Providing updated and accurate information is crucial to the user experience. This means you'll have the opportunity to answer all patient questions and make them feel comfortable in taking the next step, which is hopefully a phone call!
4. Mobile friendly – make your dental website mobile friendly
A few years ago we all started using our phones a lot more, but it's not until relatively recently that we started using them for everything. Your dental web design absolutely needs to be mobile responsive. If people aren't able to access it and use it easily on their mobile device because of the design, or lack thereof, you've lost an enormous opportunity for conversion. In fact, 52% of the people accessing websites do so through their mobile devices†.
† Percentage of all global web pages served to mobile phones from 2009 to 2018
Analyze your website's conversion rate now with our free scorecard.
5. Functional – choose user friendly function over flashy effects
People were once wow'd by movement and Flash was how you got it. But there are new options that allow for movement and fast loading time (and are compatible on mobile!). People today are all about access and speed. The best dental websites provide instant gratification, online appointments, and immediate answers. If your user can't find what they're looking for fast enough on your dental website, they'll find another one where they can.
Be sure that your dental website is easy to use. You don't want any confusion when it comes to finding important information. Include clickable phone numbers for mobile, online scheduling apps, forms, and even consider online chat. This is what today's consumers, your future patients, are expecting.
Staying up to date with website trends is one way you can help your dental website attract new patients to your practice. The truth is, an updated website leads to successful conversions. If you're unsure where your website stands in the conversion department, start by going through our website conversion scorecard. If you're still having trouble getting started, give us a call today.