Mobilize Your Dental Internet Marketing Efforts to Find More New Patients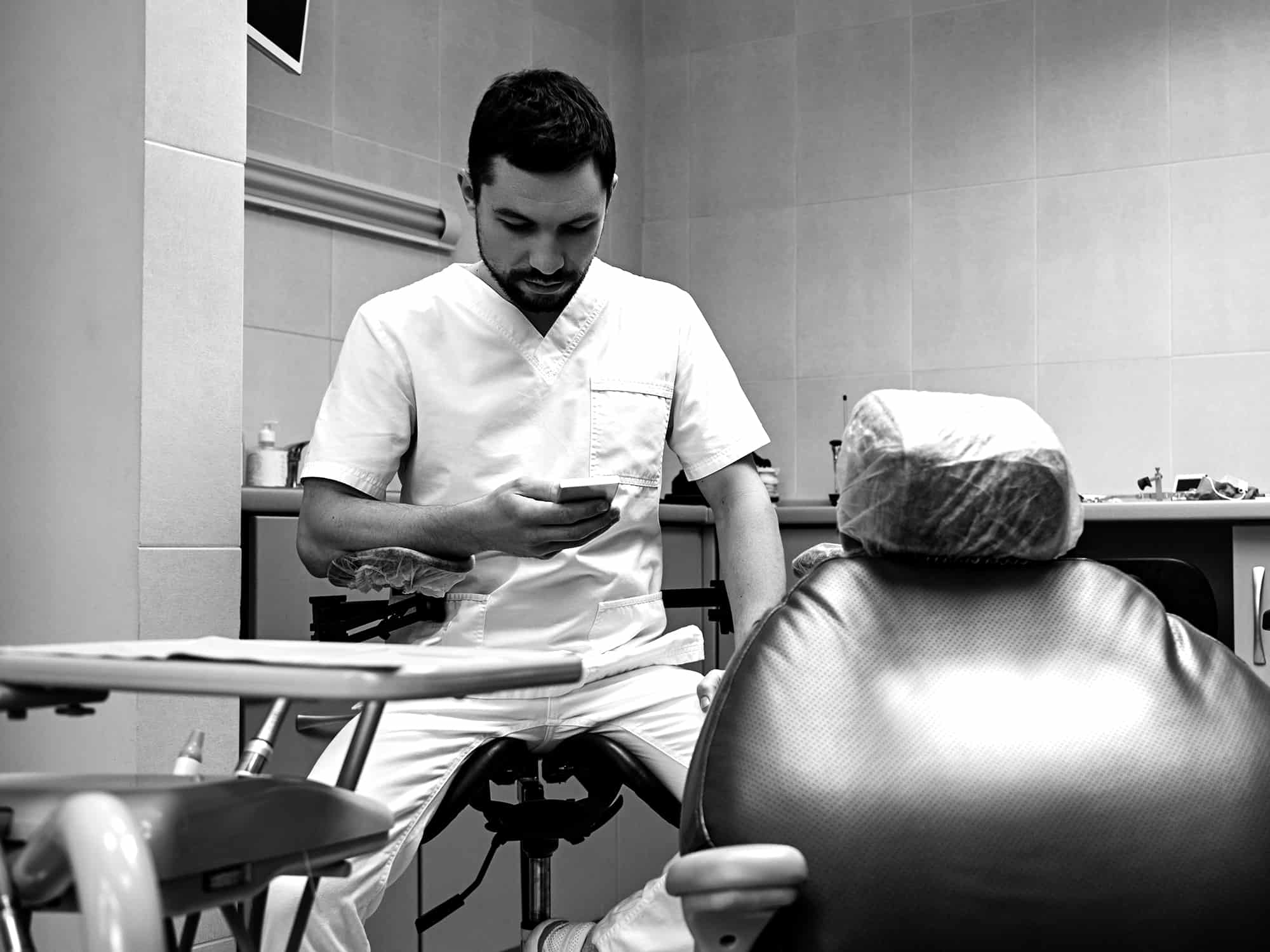 Americans pick up their phones on average every 12 minutes. That's nearly 80 times per day. On vacation, that number can reach nearly 300 times a day. Sounds insane, but think about it: we use it to take photos, answer a text, research answers to a question, socialize, and occasionally, talk. Given our intense attachment to our phones, if you aren't optimizing your dental PPC marketing for those mobile devices, you're losing new patients to competitors who are. In fact, Google says that 40% of mobile users have turned to a competitor after being frustrated by a non-mobile friendly site.
Put your patients on easy street
The average user will tap, swipe, or click something on their phone 2,617 times a day. That means the easier you make their mobile experience with your dental office, the more likely you are to convert that user into a patient. Let's explore some of our favorite mobile tactics to enhance your mobile marketing results.
Online Scheduling
Mobile phones are about adding convenience to our lives. Rather than spending 10 minutes in a conversation just to schedule an upcoming appointment, users often prefer to simply choose a time they know fits their schedule. Applications such as LocalMed allow the mobile user to select a provider, type of appointment, time of day and even pre-specify their dental insurance, all without picking up the phone.
Online scheduling has also been proven to improve the conversion rate of your dental PPC efforts. New and existing patients can now schedule appointments after hours, on weekends, and even when your team is short-handed on a busy day. Add this online scheduling application to your social media pages, your website, and especially to the landing pages of any pay per click campaigns you may be running.
Online Bill Pay
I can't remember the last time I used a stamp to mail a check to my dentist, much less my internet provider. Americans now pay more than half of their bills online with a credit card or via ACH. The easier it is to pay a bill, the more likely the provider is to get their money. Adding an online bill payment portal to your website means your patients can get your statement by email, then pay you from their phone while standing in line to get lunch an hour later. Users love the convenience; you'll love the lower AR.
Online Chat
The popularity of online chat apps was an inevitable outgrowth of American's love of texting. Immediate communication means we can get the answers we need to our dental questions faster and more efficiently. Your practice can use free online chat apps such as Tawk.to, or opt for a monitored chat from trained professionals at CallForce and similar groups. Add that chat app to your dental website, landing pages, and any place your patients might find you online. If you give companies like CallForce access to your practice management software, they can even schedule your patients immediately from web chat, all while your team focuses on taking care of the patients in front of them.
Optimizing Your Dental Internet Marketing Campaigns
Before you can even reach those patients, first they need to be exposed to your dental PPC campaign. Dental PPC, whether through google ads or via social media advertising, is a highly effective way to reach new patients where they spend a great deal of time – on their phones. More than half of users who search from a mobile device intend to make a purchase or schedule a service within an hour. But if you don't optimize your campaigns properly for mobile, you could cost yourself money as well as new patients. Let's explore a few tips for mobile maximization.
Promotions
Incentivize mobile searchers with offers and calls to action that speak specifically to mobile users. They want fast, easy promotions that make their decision to schedule a new patient appointment a slam dunk.
Click to Call Ads and Call Extensions
When a mobile user is ready to make a choice, the phone is already in their hands. Approximately 70% of mobile customers clicked the call button to call a business directly from their Google ad. Click to call ads are ideal for emergency dentistry campaigns when your user is looking for a fast fix to address their obvious pain point. Call extensions add the "call" button as a graphic on the mobile ad, so it's easier for the user to place a call.
Location Targeting
You have the ability to be highly specific with the territory you target in your Google and Facebook ads. Choose the top 5 – 10 zip codes you attract patients from and geo-target just those zips. You can also do a simple radius around your practice address. Avoid targeting the entire metro area unless you have a bottomless budget. Pay per click advertising is all about achieving your maximum ROI, so don't go after areas where you don't see a lot of patient traffic.
Bid Adjustments
Did you know that you can set your dental PPC campaign bids at different rates for a desktop device vs. a mobile device? If more than 50% of your Google Ads search traffic comes from mobile devices, wouldn't you want to make those bids as competitive as possible?
Landing Page Optimization
A properly set up dental internet marketing campaign should direct clicks to a landing page, and not your website. Your landing page should have a mobile version as well as a desktop layout, and images should be compressed to make the landing page load very quickly. Some users are moving towards AMP pages, which stands for accelerated mobile pages, a super fast option for your landing pages.
Go mobile, get more patients
Considering that over 93% of small business owners are not optimized for mobile users, it's not hard to grab a serious competitive advantage if you put a little effort into maximizing mobile. Your dental internet marketing can drive a lot of new patients to your practice if only you make your marketing mobile friendly.
Not sure if you're doing everything you can to take advantage of new patient marketing online? Download our free guide to the Top Dental Internet Marketing Trends, or call us for a free audit of your current dental PPC marketing and management.